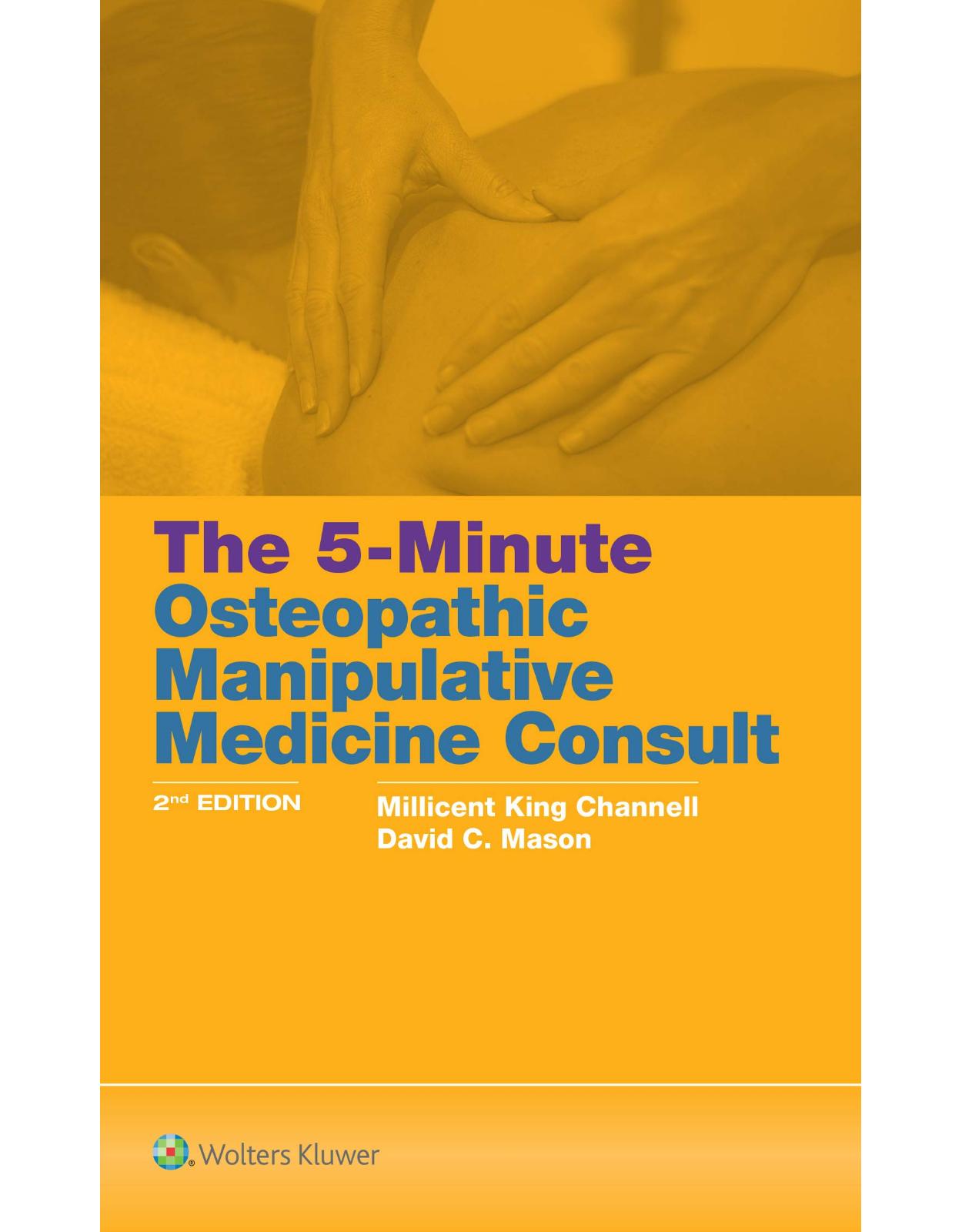 The 5-Minute Osteopathic Manipulative Medicine Consult
340 Lei

(TVA inclus)
Livrare gratis la comenzi peste 500 RON. Pentru celelalte comenzi livrarea este 20 RON.
Cod produs/ISBN: 9781496396501
Disponibilitate: La comanda in aproximativ 4 saptamani
Dimensiuni: 12.7 x 1.91 x 20.32 cm
Description:
Now in striking full color, this pocket-sized Second Edition of the first osteopathic clinical manual organized by diagnoses continues its proven quick-reference format. Presented in the tradition of The 5-Minute Consult Series , each diagnosis is presented in an at-a-glance, two-page spread. The first page defines the disease and lists associated autonomic and motor innervations and common somatic dysfunctions, while the second page lists appropriate techniques. ICD-10 billing codes, updated photos, and easy-to-understand schematic drawings combine with concise content to help readers make quick, accurate diagnoses that ensure the best possible care for every patient. Expanded coverage of OMM techniques and new color photos make the second edition an even more useful quick clinical reference.
Table of Contents:
SECTION I: DIAGNOSES
Allergy/Postnasal Drip
Ankle Sprain
Anxiety
Arthritis (Inflammatory)
Arthritis (Osteoarthritis)
Asthma
Atelectasis
Bell's Palsy
Carpal Tunnel Syndrome
Cervical Spondylosis
Cholecystitis
Chronic Obstructive Pulmonary Disease
Colic
Common Cold
Complex Regional Pain Syndrome (Reflex Sympathetic Dystrophy)
Congestive Heart Failure
Constipation
Costochondritis
Depression
Diarrhea
Dupuytren Contracture/Trigger Finger
Dysmenorrhea
Dyspareunia/Pelvic Pain
Dysphagia
Emesis
Erectile Dysfunction
Fibromyalgia
Frozen Shoulder
Gastritis/Gastroesophageal Reflux Disease/Dyspepsia
Headache
Hiccups (Singultus)
Hypertension
Ileus
Inflammatory Bowel Disease (Crohn's Disease or Ulcerative Colitis)
Influenza
Irritable Bowel Syndrome
Lateral Epicondylitis
Low Back Pain
Medial Epicondylitis
Otitis Media/Serous/Infectious
Pelvic Inflammatory Disease
Peptic Ulcer Disease
Pharyngitis/Tonsillitis
Pneumonia
Postconcussive Syndrome
Pregnancy
Premenstrual Syndrome
Pyloric Stenosis
Restless Legs Syndrome
Rhinitis, Allergic
Sacroiliitis
Sciatica
Scoliosis
Sinusitis
Spinal Stenosis
Tachycardia
Temporomandibular Joint Dysfunction
Thoracic Outlet Syndrome
Tinnitus
Torticollis
Urinary Tract Infection
Vertigo/Labyrinthitis
SECTION II: STRUCTURAL EVALUATIONS AND TREATMENT TECHNIQUES
DIAGNOSING SOMATIC DYSFUNCTION
General Overview of Somatic Dysfunction and Diagnosis
Motions of the Spine
Intersegmental Motion Testing
FOCUSED STRUCTURAL EXAMS
Introduction
Head and Neck Complaints (Include Upper Respiratory Infections, Allergies, Headache, Neck Pain)
Cardiopulmonary Symptoms
Gastrointestinal Complaints
Low Back Pain (Including Pregnancy Modification)
Lower Extremity Pain (Includes Hip, Knee, Ankle, Foot)
Upper Extremity Pain (Includes Shoulder, Elbow, Wrist and Hand)
TECHNIQUES
OA Release
Sinus Effleurage
Muncie Technique
Pterygoid Release Technique
TMJ Unwinding
Galbreath Technique
Auricular Drainage
Venous Sinus Drainage
CV4 Technique
Counterstrain—Anterior Tenderpoints
FPR—Anterior Tenderpoints
Counterstrain—Posterior Tenderpoints
FPR—Posterior Tenderpoints
Muscle Energy—Typical: C2–C7
Muscle Energy—Atypicals: AA
Muscle Energy—Atypicals: OA
Soft Tissue—Perpendicular Stretch
Soft Tissue—Longitudinal Stretch
HVLA—Typicals: C2–C7 (Rotational Thrust Emphasis)
HVLA—Atypicals: AA
HVLA—Atypicals: OA
Seated Forward Leaning Articulatory
Counterstrain—Anterior Tenderpoints
Counterstrain—Posterior Tenderpoints
Muscle Energy—Fryette's Type 1
Muscle Energy—Fryette's Type 2
Soft Tissue—Perpendicular Stretch
HVLA—Seated Thoracic HVLA T1–T5 (Full Nelson)
HVLA—Supine Double Arm Thrust (Kirksville)
HVLA—Prone Double Arm Thrust (Texas) Fryette's Type 2
HVLA—Prone Double Arm Thrust (Texas) Fryette's Type 1
Myofascial Release Direct—Pectoral Traction
Lymphatic—Thoracic Pump
Counterstrain—Anterior Tenderpoints (General)
Counterstrain—Posterior Tenderpoints (General)
Soft Tissue—Perpendicular Stretch
Muscle Energy—Fryette's Type 1
Muscle Energy—Fryette's Type 2
HVLA—Lateral Recumbent (Lumbar Roll)
Articulatory
Muscle Energy—Bilateral Sacral Flexion
Muscle Energy—Bilateral Extension
Muscle Energy—Anterior Torsion
Muscle Energy—Posterior Torsion
Muscle Energy Joint Mobilization—Anterior Innominate Rotation Dysfunction
Muscle Energy Joint Mobilization—Posterior Innominate Rotation Dysfunction: Patient Supine
Muscle Energy Joint Mobilization—Posterior Innominate Rotation Dysfunction: Alternate Prone Setup
Muscle Energy Joint Mobilization—Inflare Dysfunction
Muscle Energy Joint Mobilization—Outflare Dysfunction
Muscle Energy Joint Mobilization/Respiratory Assist—Superior Innominate Shear Dysfunction
Muscle Energy Joint Mobilization/Respiratory Assist—Inferior Innominate Shear Dysfunction
Carpal Bone—Articulatory
Flexor Retinaculum Release (Carpal Tunnel Treatment)—Myofascial Release
Spencer Technique—Articulatory
Spencer Technique—Muscle Energy
Counterstrain—Supraspinatus
Counterstrain—Infraspinatus
Counterstrain—Teres Major
Counterstrain—Teres Minor
Counterstrain—Subscapularis
Counterstrain—Common Flexors of the Wrist
Counterstrain—Common Extensors of the Wrist
Lymphatic—Effleurage
Muscle Energy—Posterior Radial Head Dysfunction (Pronation Dysfunction)
Muscle Energy—Anterior Radial Head Dysfunction (Supination Dysfunction)
Lymphatic Pedal Pump
Lymphatic—Effleurage
Muscle Energy—Psoas Hypertonicity
Muscle Energy—Piriformis Hypertonicity
Counterstrain—Psoas Hypertonicity
Counterstrain—Piriformis Hypertonicity
Counterstrain—Anterior Tenderpoints AR1–AR10
Counterstrain—Posterior Tenderpoints PR1–PR10
Springing Technique (Myofascial Release)—Rib Raising
Muscle Energy Using Respiratory Assist—First or Second Rib Inhalation Dysfunction
Muscle Energy—Ribs 3 to 10 Inhalation Dysfunction
Muscle Energy Using Respiratory Assist—Ribs 11 and 12 Inhalation Dysfunction
Muscle Energy—First Rib Exhalation Dysfunction
Muscle Energy—Second Rib Exhalation Dysfunction
Muscle Energy—Ribs 3 to 5 Exhalation Dysfunction
Muscle Energy—Ribs 6 to 10 Exhalation Dysfunction
Muscle Energy—Ribs 11 to 12 Exhalation Dysfunction
Myofascial Release/Lymphatic—Doming of the Diaphragm
Myofascial Release Direct Inhibition—Collateral Ganglion Release
Direct Inhibition—Chapman's Reflex
Myofascial Release—Colonic Stimulation
Myofascial Release Direct—Mesenteric Release/Lift
SPECIALIZED TESTS
Cranial Nerve Testing
Temporomandibular Joint Evaluation
Distraction Test
Cervical Compression Test (Spurling's Test)
Valsalva Test
Swallowing Test (Possible Infection, Osteophytes, Hematoma, or Tumor in the Anterior Portion of the Cervical Spine)
Trendelenburg's Test (Gluteus Medius Weakness)
Knee Exam—Anterior Drawer Test (Anterior Cruciate Ligament Tear)
Knee Exam—Posterior Drawer Test (Posterior Cruciate Ligament Tear)
Apley's Compression Test (Meniscal Tears)
Apley's Distraction Test (Ligamentous Tears)
Lachman's Test (Anterior Cruciate Ligament Tear)
McMurray's Test (Posterior Tear of the Medial Meniscus)
McMurray's Test (Tear of the Lateral Meniscus)
Patellar Grind Test (Chondromalacia)
Valgus Stress (Medial Collateral Ligament Tear)
Varus Stress (Lateral Collateral Ligament Tear)
Anterior Drawer Test for Ankle Instability (Tear of Anterior Talofibular Ligament and Possibly Other Ligaments)
Straight Leg Raising Test
Hip Drop Test
ASIS Compression Test (Locates the Side of Somatic Dysfunction in the Pelvis)
Standing Flexion Test (Locates the Side of Somatic Dysfunction in the Pelvis)
Seated Flexion Test (Locates the Side of Somatic Dysfunction in the Pelvis, Especially the Sacrum)
Lumbosacral Spring Test (Posterior Sacral Base)
Apley's Scratch Test (Shoulder Range of Motion)
Drop Arm Test (Rotator Cuff Tears, Especially Supraspinatus)
Neer's Test (Impingement of Supraspinatus and Infraspinatus Tendons under Acromion Process)
Hawkin's Test (Impingement of Supraspinatus and Infraspinatus Tendons under Acromion Process)
Speed's Test (Biceps Tendonitis, Enthesopathy, or Labral Tear)
Yergason's Test (Stability of the Biceps Tendon in the Bicipital Groove)
Apprehension Test (Anterior Glenohumeral Instability)
Adson's Test (Thoracic Outlet Syndrome) (Brachial Plexus Impingement between Anterior and Middle Scalene)
Military Posture Test (Costoclavicular Syndrome Test) (Brachial Plexus Impingement between Clavicle and First Rib)
Wright's Test (Brachial Plexus Impingement under Pectoralis Minor)
Tinel's Sign at Elbow (Ulnar Nerve Entrapment)
Cozen's Test—Tennis Elbow Test (Lateral Epicondylitis)
Mill's Test—Tennis Elbow Test (Lateral Epicondylitis)
Golfer's Elbow Test (Medial Epicondylitis)
Tests for Ligamentous Stability at Elbow
Allen's Test (Arterial Insufficiency of the Radial and Ulnar Arteries to the Hand)
Finkelstein's Test (de Quervain's Disease/Tenosynovitis)
Phalen's Test (Carpal Tunnel Syndrome)
Tinel's Sign at Wrist (Carpal Tunnel Syndrome)
SUMMARY CHARTS
Potential Upper Extremity Nerve Impingements
Potential Lower Extremity Nerve Impingements
Anterior Dermatomes
Posterior Dermatomes
Reflexes—Upper Extremity
Reflexes—Lower Extremity
Muscle Strength—Upper Extremity
Muscle Strength—Lower Extremity
Cranial Holds
Sacral Diagnosis
References
Index
| | |
| --- | --- |
| An aparitie | 30 May 2019 |
| Autor | Millicent King Channell, David C. Mason |
| Dimensiuni | 12.7 x 1.91 x 20.32 cm |
| Editura | LWW |
| Format | Paperback |
| ISBN | 9781496396501 |
| Limba | Engleza |
| Nr pag | 400 |