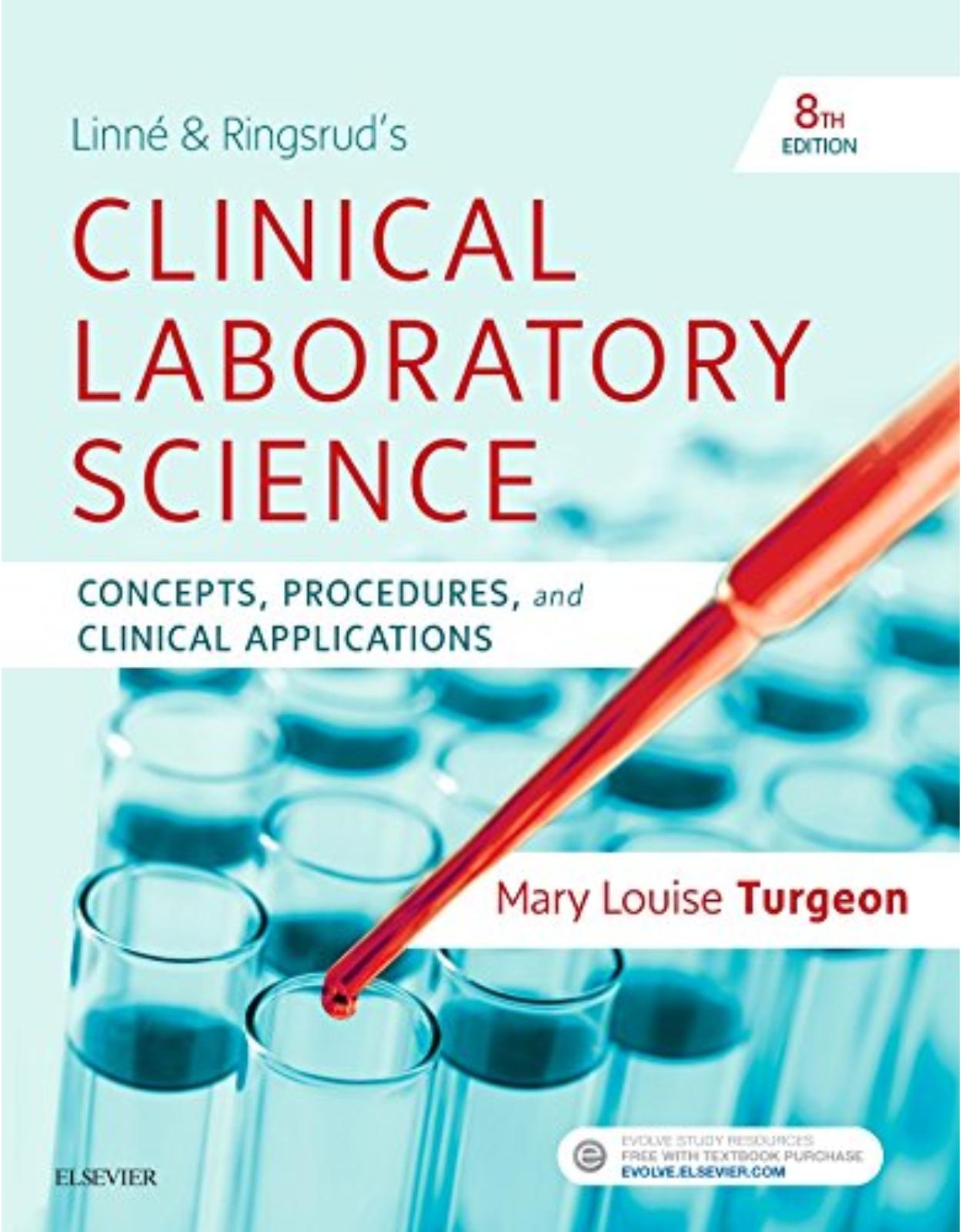 Linne & Ringsrud's Clinical Laboratory Science: Concepts, Procedures, and Clinical Applications, 8e
480 Lei
450 Lei

(TVA inclus)
Livrare gratis la comenzi peste 500 RON. Pentru celelalte comenzi livrarea este 20 RON.
Cod produs/ISBN: 9780323530828
Disponibilitate: La comanda in aproximativ 4 saptamani
Dimensiuni: 22.2 x 3.2 x 27.9 cm
Thoroughly updated and easy-to-follow,
Linne & Ringsrud's Clinical Laboratory Science: Concepts, Procedures, and Clinical Applications, 8th Edition
offers a fundamental overview of the laboratory skills and techniques you'll need for success in the clinical laboratory. Author Mary Louise Turgeon's simple and straightforward writing clarifies complex concepts, and her unique discipline-by-discipline approach helps you build knowledge and learn to confidently perform routine clinical laboratory tests with accurate, effective results.
Topics like safety, measurement techniques, and quality assessment are woven throughout the various skills. The new eighth edition also features updated content including expanded information on viruses and automation. It's the must-have foundation for anyone wanting to pursue a profession in the clinical lab.
Key Features
o Broad content scope provides an ideal introduction to clinical laboratory science at a variety of levels, including CLS/MT, CLT/MLT, and Medical Assisting.
o Case studies include critical thinking and multiple-choice questions to challenge readers to apply the content to real-life scenarios.
o Expert insight from respected educator Mary Lou Turgeon reflects the full spectrum of clinical lab science.
o Detailed procedures guides readers through the exact steps performed in the lab.
o Vivid full-color illustrations familiarize readers with what they'll see under the microscope.
o Review questions at the end of each chapter help readers assess your understanding and identify areas requiring additional study.
o Evolve companion website provides convenient online access to all of the procedures in the text and houses animations, flashcards, and additional review questions not found in the printed text.
o Procedure worksheets can be used in the lab and for assignment as homework.
o Streamlined approach makes must-know concepts and practices more accessible.
o Convenient glossary simplifies the process of looking up definitions without having to search through each chapter.


Contents:


PART I: Basic Laboratory Techniques

1. Fundamentals of the Clinical Laboratory
2. Safety: Patient and Clinical Laboratory Practices
3. Quality Assessment and Quality Control in the Clinical Laboratory
4. Phlebotomy: Collecting and Processing Patient Blood Specimens
5. The Microscope
6. Systems of Measurement, Laboratory Equipment, and Reagents
7. Laboratory Mathematics and Solution Preparation
8. Basic and Contemporary Techniques in the Clinical Laboratory
9. Delivery of Laboratory Testing: From Point of Care Testing to Total Automation

PART II: Clinical Laboratory Specializations

10. Introduction to Clinical Chemistry
11. Principles and Practice of Clinical Hematology
12. Hemostasis and Blood Coagulation
13. Renal Physiology and Urinalysis
14. Examination of Body Fluids and Miscellaneous Specimens
15. Introduction to Microbiology
16. Immunology and Serology
17. Immunohematology and Transfusion Medicine
Appendix A, Answers to Review Questions and Multiple-Choice Questions in Case Studies
Appendix B, Disease/Organ Panels
Glossary
| | |
| --- | --- |
| An aparitie | March 2019 |
| Autor | Mary Louise Turgeon |
| Dimensiuni | 22.2 x 3.2 x 27.9 cm |
| Editura | Mosby |
| Format | Paperback |
| ISBN | 9780323530828 |
| Limba | Engleza |
| Nr pag | 688 |