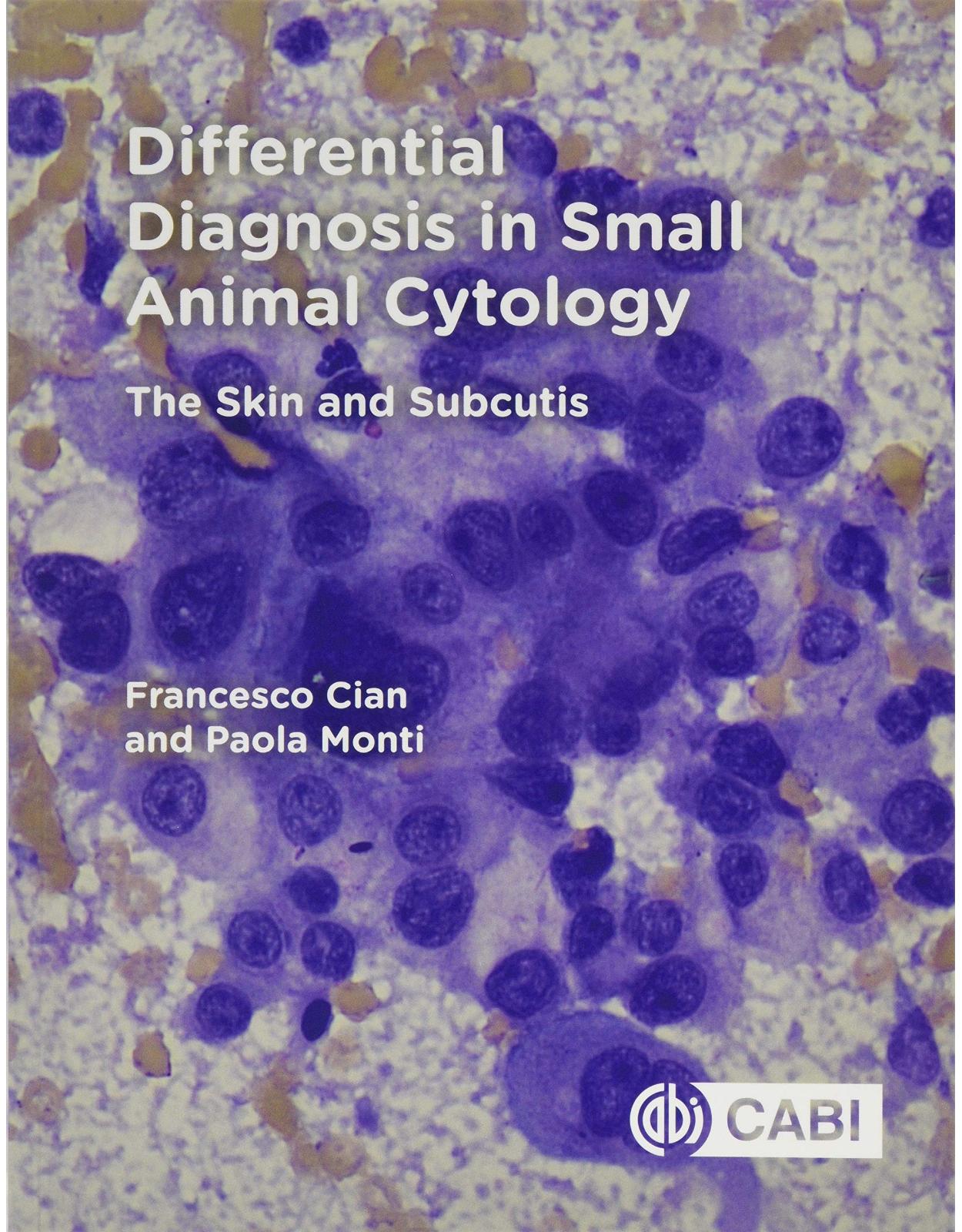 Differential Diagnosis in Small Animal Cytology
265 Lei

(TVA inclus)
Livrare gratis la comenzi peste 500 RON. Pentru celelalte comenzi livrarea este 20 RON.
Cod produs/ISBN: 9781786392251
Disponibilitate: La comanda in aproximativ 4 saptamani
Dimensiuni: 189 x 244 x 15 mm
Praise for previous editions: '(There) sometimes appear publications which are worthy of specific attention... (they) stimulate, instruct and present new concepts. Among such books belongs the reviewed book... we can only hope that this successful work gets to the hands of those in the field.' Agricultura Tropica et Subtropica, Vol. 44 (3), 2011. 'This book should be a must read for agricultural and veterinary students and a reference book for those policy making to guide us in the simple things that can make such a big difference to the quality of life of our production animals'. Veterinary record Completely revised, updated and with four new chapters including sustainability, new technologies, precision agriculture and the future animal welfare, the third edition of this highly successful textbook: Is edited by an outstanding world expert on animal welfare. Emphasizes throughout the importance of measuring conditions that compromise welfare, such as lameness, heat stress, body condition, and bruises during transport. Includes four new chapters covering contemporary key topics in animal welfare. Combines scientific information with practical recommendations for use on commercial operations. Reviews practical information on livestock handling, euthanasia, slaughter, pain relief, and assessments of abnormal behaviour. Improving Animal Welfare: a practical approach remains essential reading for students and practitioners of ethology, animal and veterinary science, veterinary medicine, as well as those working directly with farm animals and committed to improving their welfare.
Table of Contents:
PART I: BASIC PRINCIPLES OF CYTOLOGY
1. Guide to the choice and correct use of the microscope (Ian Baldwin)
1.1 Choosing a supplier
1.2 Parts of a microscope
1.3 Setting up a microscope
1.4 Care of the microscope
1.5 Taking pictures of microscope images
2. Collection, preparation and staining of cytology specimens
2.1 Materials
2.2 Sampling techniques
2.3 Smear preparation techniques
2.4 Slide staining
3. Guidelines to cytology smear examination
3.1 Step-by-step approach to the slide examination and description
3.2 Interpretation of the cytological findings
4. Cytological criteria of malignancy
4.1 General criteria of malignancy
4.2 Nuclear criteria
4.3 Cytoplasmic criteria
PART II: CYTOLOGY OF SKIN AND SUBCUTIS
5. Skin and subcutis anatomy
5.1 Main components of the skin and subcutis
5.2 Main cell types observed on cytology
6. Inflammatory lesions
6.1 Neutrophilic inflammation
6.2 Macrophagic inflammation
6.3 Eosinophilic inflammation
6.4 Lymphocytic inflammation
6.5 Inflammation caused by infectious agents
6.6 Panniculitis
6.7 Xanthoma
6.8 Injection site and foreign body reaction
6.9 Pemphigus foliaceus (PF)
7. Cysts, tumour-like lesions and response to tissue injury
7.1 Follicular cysts
7.2 (Sweat gland) apocrine cyst
7.3 Fibroadnexal hamartoma
7.4 Haematoma and haemorrhage
7.5 Necrosis
7.6 Calcinosis
7.7 Granulation tissue
7.8 Nodular fasciitis
8. Epithelial tumours
8.1 Tumours without squamous or adnexal differentiation
Basal cell tumour and basal cell carcinoma
8.2 Epidermal tumours
Papilloma
Squamous cell carcinoma (SCC)
8.3 Follicular tumours
Trichoblastoma
Trichoepithelioma
Infundibular keratinizing acanthoma (IKA) (dog)
Pilomatricoma
8.4 Sebaceous tumours
Sebaceous adenoma, epithelioma and carcinoma
Perianal gland adenoma, epithelioma and carcinoma (dog)
8.5 Apocrine gland tumours
Sweat gland adenoma and carcinoma
Ceruminous gland adenoma and carcinoma
Anal sac adenocarcinoma (ASAC)
8.6 Clear cell adnexal carcinoma (dog)
8.7 Merkel cell tumour
8.8 Diagnostic algorithms
9. Mesenchymal tumours and other neoplasms
9.1 Mesenchymal tumours
Fibroma and fibrosarcoma
Myxoma and myxosarcoma
Keloidal fibroma and fibrosarcoma
Perivascular wall tumours (PWTs)
Lipoma
Liposarcoma
Haemangioma
Haemangiosarcoma
Anaplastic sarcoma with giant cells and pleomorphic sarcoma
Injection site sarcoma
Rhabdomyoma and rhabdomyosarcoma
9.2 Histiocytic tumours
Histiocytic sarcoma (HS)
Feline progressive dendritic cell histiocytosis (FPH)
Other canine histiocytic disorders
9.3 Melanocytic tumours
10. Round cell tumours
10.1 Canine mast cell tumour (canine MCT)
10.2 Feline mast cell tumour (feline MCT)
10.3 Cutaneous histiocytoma (dog)
10.4 Plasma cell tumour
10.5 Transmissible venereal tumour (TVT)
10.6 Cutaneous lymphoma
11. Metastatic lesions
12. Suggested further reading and references
Back Cover
| | |
| --- | --- |
| An aparitie | 03 Oct 2019 |
| Autor | Francesco Cian, Paola Monti |
| Dimensiuni | 189 x 244 x 15 mm |
| Editura | CABI |
| Format | Paperback |
| ISBN | 9781786392251 |
| Limba | Engleza |
| Nr pag | 208 |