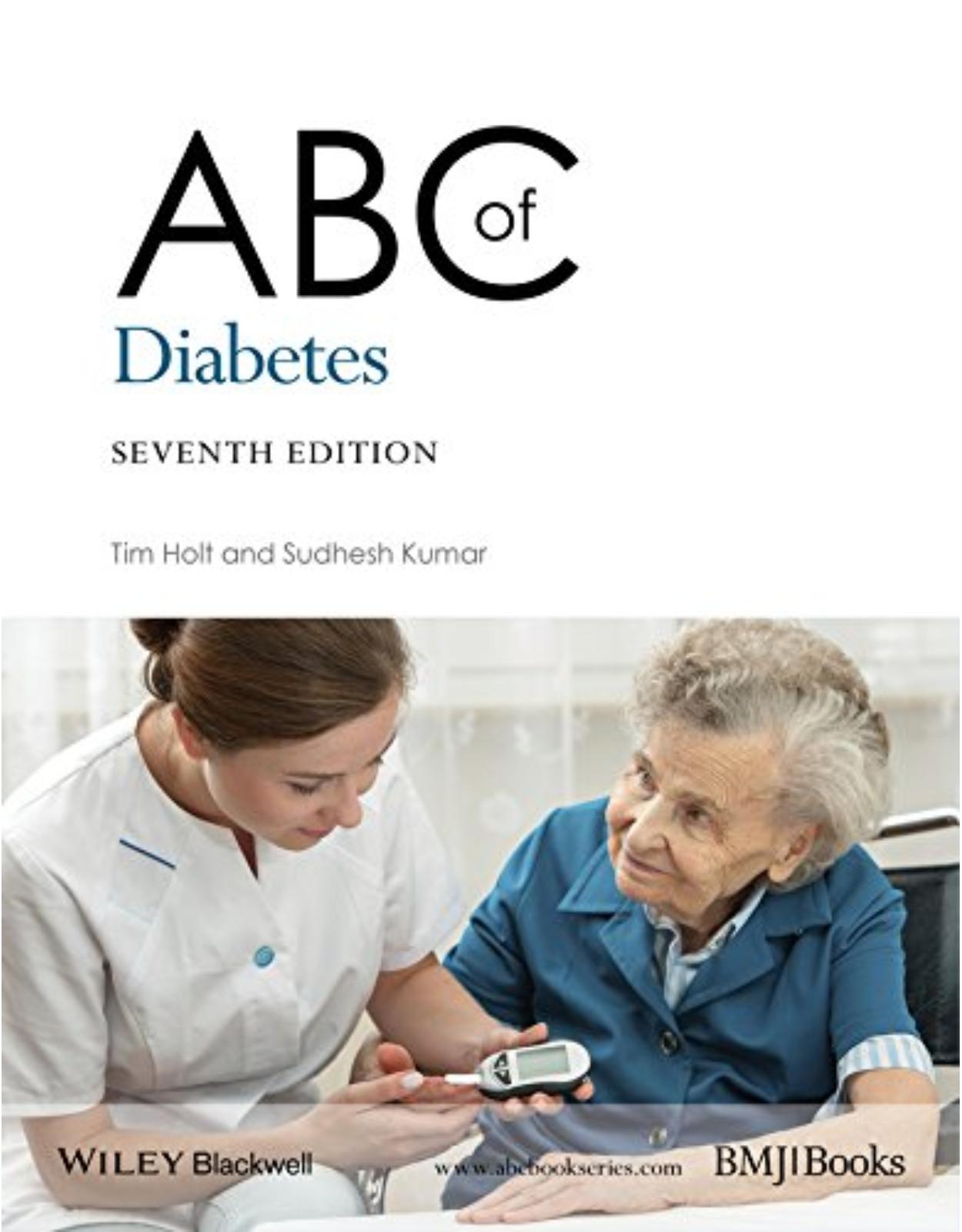 ABC of Diabetes, 7th Edition
227 Lei
218 Lei

(TVA inclus)
Livrare gratis la comenzi peste 500 RON. Pentru celelalte comenzi livrarea este 20 RON.
Cod produs/ISBN: 9781118850534
Disponibilitate: La comanda in aproximativ 4 saptamani
Dimensiuni: 21.59 x 0.64 x 27.94 cm
An aparitie: 18 Sept. 2015
Description:
ABC of Diabetes provides primary care practitioners with a practical guide to all aspects of diabetes including the aetiology, diagnosis and management of Types 1 and 2 diabetes, detection and prevention, and the organization of care and support.
Advances in diabetes care take place at a rapid rate and this new edition is updated throughout to cover the latest evidence-based information for contemporary practice. A new chapter describes the management of severe and complex obesity complicated by diabetes and the management of patients through bariatric surgery.
It also covers the growing number of devices and digital technology, including health informatics, that can assist in diabetes care and provides evidence of their benefit. With more links to useful websites and resources online, it is now easier than ever to keep up-to-date with changes.
Drawing on the professional and teaching experience of an expert author team, ABC of Diabetes is an essential guide for general practice, primary care practitioners, diabetes specialist nurses, as well as for medical students and those training in diabetes as a specialty.
CHAPTER 1: Diagnosing Diabetes
Introduction
Prevalence of diabetes
Types of diabetes
Risk factors for diabetes
Glucose tolerance test
Interpretation of the oral glucose tolerance test results
Identifying patients in need of insulin or urgent referral to hospital
Metabolic syndrome
Delaying the onset of type 2 diabetes
Further reading and references
CHAPTER 2: Types of Diabetes
Introduction
Type 1 diabetes
Type 2 diabetes
Maternally inherited diabetes with deafness (MIDD)
Special forms of diabetes
Lipodystrophies
Other insulin-resistant syndromes
Further reading
CHAPTER 3: Helping People Live with Diabetes
Introduction
Patient-centred priority setting
Shared decision-making
Targets
Main issues to cover in the first consultation
Keeping on the same side
How can we help patients change their lifestyles?
Structured education
'Yo-yoing'
Semantics
Summary
Further reading and references
CHAPTER 4: Early Detection and Prevention of Diabetes
Introduction
Changes in population demography
Type 2 diabetes in the young
Impacting on the diabetes epidemic
Pre-diabetes and macrovascular disease
The tip of the iceberg
Silent damage
Should we screen the population for diabetes?
Screening for raised cardiovascular risk
Preventing diabetes in those at risk
The 'missing population' with diabetes
Summary
Further reading and references
CHAPTER 5: Obesity
Introduction
Diagnostic criteria
Medical management of obesity in diabetic patients
Further reading and references
CHAPTER 6: Cardiovascular Disease
Introduction
'Buying in' to polypharmacy
Blood glucose control
Tight glycaemic control in older patients – balancing risks and benefits
Blood pressure control
Renal impairment and albuminuria
Lipid lowering in people with diabetes
Other ways of reducing cardiovascular risk
Multifactorial interventions in diabetes care
Summary
Further reading and references
CHAPTER 7: Management of Blood Glucose in Type 2 Diabetes
Introduction
Initial management
Drug therapy options
Starting insulin in general practice
Hypoglycaemia
Difficulties in achieving targets
Further reading and references
CHAPTER 8: Hyperglycaemic Emergencies and Management of Diabetes in Hospital
Introduction
Preventing diabetic ketoacidosis (DKA)
Clinical features of ketoacidosis
Diagnosis
Treatment
'Brittle diabetes'
Hyperosmolar hyperglycaemic syndrome
Management of hospitalised type 2 diabetic patients
Management of diabetes for major elective surgery and type 1 diabetic patients
The role of technology in improving inpatient diabetes care
Further reading
CHAPTER 9: Insulin Therapy
Introduction
Types of insulin
Insulin regimens
Administering insulin
Summary
Further reading
CHAPTER 10: Hypoglycaemia
Introduction
Causes
Recognising the hypoglycaemic patient: the clinical picture
Hypoglycaemia unawareness
Treatment of the acute episode in adults
Hypoglycaemia in children
Long-term management of the patient
Further reading
CHAPTER 11: Self-Management of Diabetes
Introduction
What should I eat?
Should I self-monitor?
How should I use my blood glucose results to improve control?
Advice based on the retrospective approach
Maintaining an active lifestyle
Summary
Further reading and references
CHAPTER 12: Surveillance for Complications
Introduction
Structure of a basic surveillance programme
Summary
Further reading
CHAPTER 13: Kidney Disease in Diabetes
Introduction
Epidemiology
Clinical presentation
Investigation of suspected nephropathy
Histological features of diabetic nephropathy
Primary prevention
Treatment of diabetic nephropathy
Other problems
Prescribing issues in people with renal impairment
Summary
Further reading and references
CHAPTER 14: Eye Disease in Diabetes
Introduction
Screening techniques
Pathogenesis
Background retinopathy
Pre-proliferative retinopathy
Proliferative retinopathy
Further assessment of established retinopathy
Treatment options
Other eye problems in diabetes
Living with diabetic retinopathy
Summary
Further reading and references
CHAPTER 15: The Diabetic Foot
Introduction
The three key risk factors
Patterns of presentation
Regular surveillance
Charcot's joint
Treatment of diabetic foot complications
Antibiotic therapy
Conservative management
Surgical intervention
Further reading and references
CHAPTER 16: Diabetic Neuropathy
Introduction
Peripheral neuropathy
Autonomic neuropathy
Erectile dysfunction
Further reading
CHAPTER 17: Psychological Issues Related to Diabetes Care
Introduction
Adjusting behaviourally to the diagnosis
Needle phobia
'Food addiction'
Depression and diabetes
'Self-defeating' behaviour
Eating disorders in diabetes
Therapeutic inertia
Summary
Further reading and references
CHAPTER 18: Diabetes and Pregnancy
Introduction
Preconceptual management in women with pre-existing diabetes
Gestational diabetes vs. diabetes in pregnancy
Monitoring of the pregnant patient with diabetes
Managing diabetic complications during pregnancy (see Table 18.5)
Monitoring the foetus during pregnancy
Management in labour
Managing hyperglycaemia during labour
Postnatal follow-up of gestational diabetes
Summary
Further reading
CHAPTER 19: Organisation of Diabetes Care in General Practice
Introduction
Diabetes Register
Case finding for diabetes
Organising care following the diagnosis
Assessing the quality of diabetes care
Summary
Further reading
CHAPTER 20: New and Emerging Therapies for Diabetes
Introduction
Key limitations of current therapeutic approaches
Incretins and other hormone-based therapies
Obesity
The future
Further reading and references
CHAPTER 21: Support for People Living with Diabetes
Introduction
Patient support organisations
Diabetes UK
The International Diabetes Federation (IDF)
The American Diabetes Association
Patient.co.uk
Summary
Further reading
Index
| | |
| --- | --- |
| An aparitie | 18 Sept. 2015 |
| Autor | Tim Holt, Sudhesh Kumar |
| Dimensiuni | 21.59 x 0.64 x 27.94 cm |
| Editura | Wiley |
| Format | Hardcover |
| ISBN | 9781118850534 |
| Limba | Engleza |
| Nr pag | 136 |