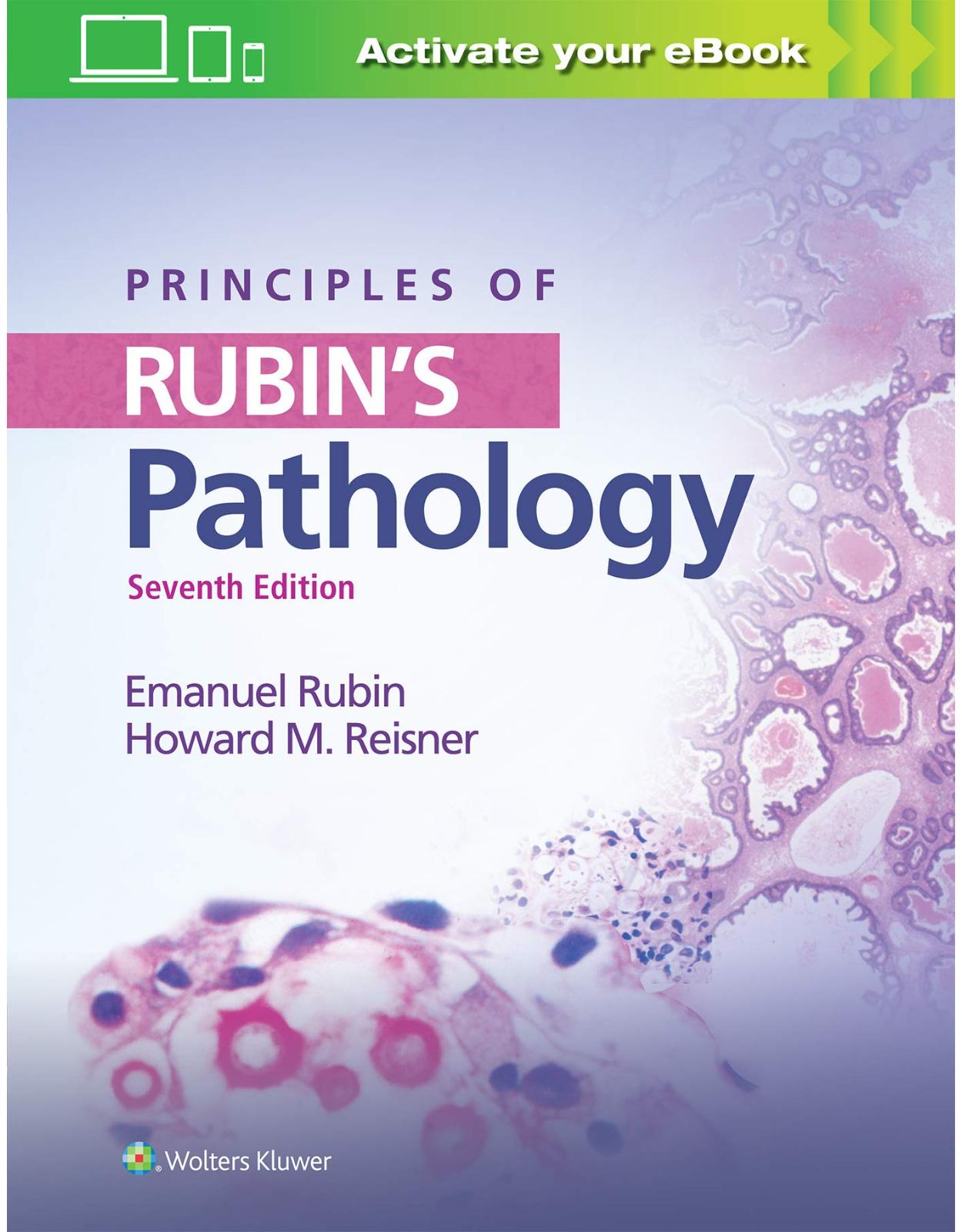 Principles of Rubin's Pathology
404 Lei
380 Lei

(TVA inclus)
Livrare gratis la comenzi peste 500 RON. Pentru celelalte comenzi livrarea este 20 RON.
Cod produs/ISBN: 9781496350329
Disponibilitate: La comanda in aproximativ 4 saptamani
Dimensiuni: 15.3 x 3.8 x 22.9 cm
Principles of Rubin's Pathology, Seventh Edition distills the renowned coverage of Rubin's Pathology, Seventh Edition into a focused, approachable guide to the essentials of pathology. This resource introduces principles and mechanisms of pathology, followed by organ-specific information, extracting key information on pathogenesis, epidemiology, and clinical features of diseases. Detailed images clarify challenging content, and companion online resources enable students to learn on the go and confidently prepare for exams. This edition is optimized for students seeking only the most critical information, making it an ideal resource for international medical schools, PA, pharmacy, nursing, and allied health programs. Streamlined content emphasizes essential concepts, including the use of bold terms and bulleted lists to emphasize key points, for the most efficient study of pathology available. Illustrations, photomicrographs, and clinical photographs clarify challenging content and represent the pathogeneses of disease. Highlighted boxes and helpful graphic icons identify Pathogenesis, Pathology, Epidemiology, and Clinical Features sections. Globally sourced content reflects an international spectrum of current practices and approaches. Online resources including new slide-based histopathology lectures presented by Dr. Rubin, original animations, and fully searchable text make learning more engaging and efficient. Digital version available for purchase. Fast, smart, and convenient, today's digital books can transform learning. These interactive, fully searchable tools offer 24/7 access on multiple devices, the ability to highlight and share notes, and more.
· Contents
· 1. Cell Adaptation, Injury, Death, and Aging David S. Strayer, Emanuel Rubin, David Lombard
· 2. Inflammation and Repair Hedwig S. Murphy, Kendra Iskander, David S. Strayer, Daniel G. Remick, Gregory C. Sephel, Jeffrey M. Davidson
· 3. Immunopathology Jeffrey S. Warren, David S. Strayer, Philip L. Cohen, Sergio A. Jimenez
· 4. Neoplasia David S. Strayer, Emanuel Rubin
· 5. Developmental and Genetic Diseases Linda A. Cannizzaro
· 6. Infectious and Parasitic Diseases David A. Schwartz
· 7. The Amyloidoses Philip Hawkins
· 8. Blood Vessels and Hemodynamic Disorders Avrum I. Gotlieb, Amber Chang Liu, Bruce M. McManus, Michael F. Allard, Robert Yanagawa
· 9. Heart Jeffrey E. Saffitz
· 10. The Respiratory System Mary Beth Beasley, William D. Travis
· 11. The Gastrointestinal Tract Leana Guerin, Frank Mitros
· 12. The Liver and Biliary System Arief A. Suriawinata, Swan N. Thung
· 13. The Exocrine Pancreas David S. Klimstra, Edward B. Stelow
· 14. The Kidney J. Charles Jennette
· 15. The Lower Urinary Tract and Male Reproductive System Ivan Damjanov, Peter A. McCue
· 16. The Female Reproductive Tract George L. Mutter, Jaime Prat, David A. Schwartz
· 17. The Breast Anna Marie Mulligan, Frances P. O'Malley
· 18. Hematopathology Riccardo Valdez, Mary M. Zutter, Shauying Li, Alina Dulau Florea, Bruce M. McManus, Michael F. Allard, Robert Yanagawa
· 19. Endocrine System, Diabetes, and Nutritional Diseases Maria J. Merino, David S. Klimstra, Edward B. Stelow, David S. Strayer, Emanuel Rubin, Kevin Jon Williams, Elias S. Siraj
· 20. The Skin Ronnie M. Abraham, Emily Y. Chu, David E. Elder
· 21. The Head and Neck Diane L. Carlson
· 22. Bones, Joints, and Soft Tissue Roberto A. Garcia, Elizabeth G. Dostco, Michael J. Klein, Alan L. Schiller
· 23. Skeletal Muscle Lawrence C. Kenyon, Thomas W. Bouldin
· 24. The Central Nervous System and Eye Gregory N. Fuller, J. Clay Goodman, Gordon K. Klintworth
· 25. Traumatic and Environmental Injury Marc S. Micozzi, David S. Strayer, Emanuel Rubin
| | |
| --- | --- |
| An aparitie | 26 Oct 2018 |
| Autor | Emanuel Rubin, Howard M. Reisner |
| Dimensiuni | 15.3 x 3.8 x 22.9 cm |
| Editura | Lippincott Williams and Wilkins |
| Format | Paperback |
| ISBN | 9781496350329 |
| Limba | Engleza |
| Nr pag | 968 |