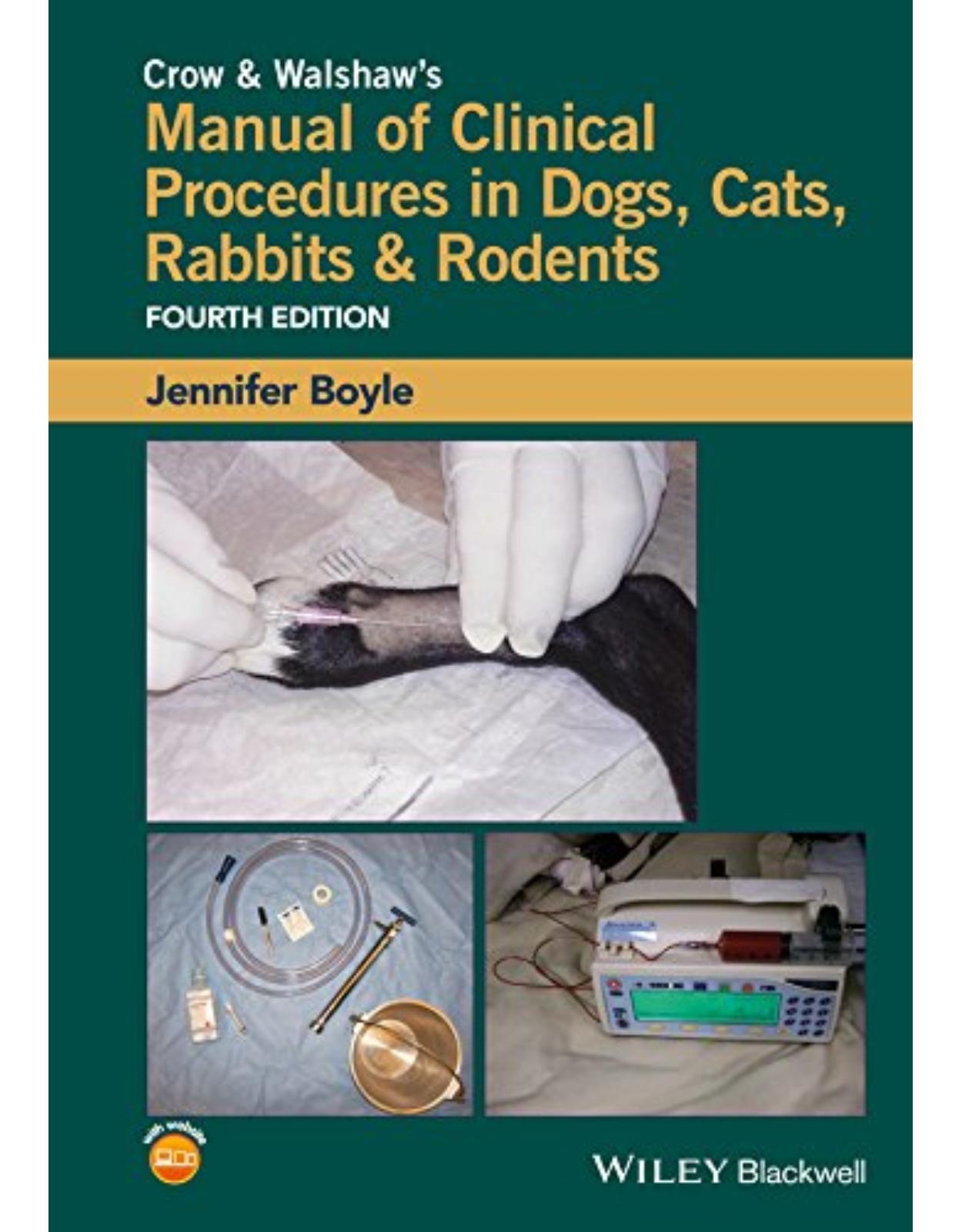 Crow & Walshaw′s Manual of Clinical Procedures in Dogs, Cats, Rabbits & Rodents 4e
378 Lei
320 Lei

(TVA inclus)
Livrare gratis la comenzi peste 500 RON. Pentru celelalte comenzi livrarea este 20 RON.
Cod produs/ISBN: 9781118985700
Disponibilitate: La comanda in aproximativ 4 saptamani
Dimensiuni: 17.27 x 2.29 x 25.15 cm
DESCRIPTION:
Crow & Walshaw's Manual of Clinical Procedures in Dogs, Cats, Rabbits, & Rodents, Fourth Edition provides practical, up-to-date information on common veterinary procedures for gerbils, hamsters, guinea pigs, dogs, cats and rabbits with detailed line drawings and photographs that demonstrate not only pertinent anatomical relationships, but also operational motions.
A classic veterinary clinical manual
Provides practical, up-to-date information on common veterinary procedures
Detailed line drawings and photographs demonstrate pertinent anatomical relationships and operational motions
Companion website offering interactive multiple choice questions and answers, and images from the text in PowerPoint
TABLE OF CONTENTS:
Preface vii
Acknowledgments ix
About the Companion Website x
Part I Routine Clinical Procedures 1
Chapter 1 Restraint of Dogs and Cats 3
Chapter 2 Venous Blood Collection 17
Chapter 3 Injection Techniques 31
Chapter 4 Placement and Care of Intravenous Catheters 43
Chapter 5 Oral Administration of Medications 73
Chapter 6 Dermatologic Procedures 79
Chapter 7 Impression Preparations 93
Chapter 8 Fine-Needle Aspiration Biopsy 97
Chapter 9 Ophthalmic Procedures 103
Chapter 10 Ear Care 123
Chapter 11 Pedicure 129
Chapter 12 Urethral Catheterization 135
Chapter 13 Digital Rectal Examination 151
Chapter 14 Anal Sac Expression and Cannulation 155
Chapter 15 Enema 159
Part II Specialized Clinical Procedures 163
Chapter 16 Skin Preparation 165
Chapter 17 Intubation 169
Chapter 18 Gastric Lavage 207
Chapter 19 Transtracheal Wash 211
Chapter 20 Centesis 217
Chapter 21 Peritoneal Catheterization and Lavage 225
Chapter 22 Needle Biopsy of Masses and Viscera 231
Chapter 23 Urohydropropulsion 255
Chapter 24 Prostatic Massage/Washing 259
Chapter 25 Semen Collection and Artificial Insemination 263
Chapter 26 Vaginal Examination and Specimen Collection 269
Chapter 27 Bone Marrow Aspiration and Biopsy 275
Chapter 28 Cerebrospinal Fluid Collection 289
Part III Emergency Procedures 295
Chapter 29 Rapid Evaluation of Bleeding and Clotting Disorders 297
Chapter 30 Blood Pressure Measurement 305
Chapter 31 Transfusion of Blood and Plasma 321
Chapter 32 Placement of Intraosseous Catheters 327
Chapter 33 Arterial Blood Collection 333
Chapter 34 Tracheostomy 343
Chapter 35 Cardiopulmonary Resuscitation 349
Part IV Routine Clinical Procedures in Small Mammals 361
Chapter 36 Restraint of Rabbits 363
Chapter 37 Selected Clinical Procedures in Rabbits 371
Chapter 38 Selected Clinical Procedures in Small Rodents 383
Index 397
| | |
| --- | --- |
| An aparitie | 17 May 2016 |
| Autor | Jennifer Boyle |
| Dimensiuni | 17.27 x 2.29 x 25.15 cm |
| Editura | Wiley |
| Format | Paperback |
| ISBN | 9781118985700 |
| Limba | Engleza |
| Nr pag | 432 |